An ideal space to create unforgettable memories, The Puttur Club signature style blends sophistication with local art and culture to create international chic and luxury. It is an exclusive club for elites and first of its kind in Puttur.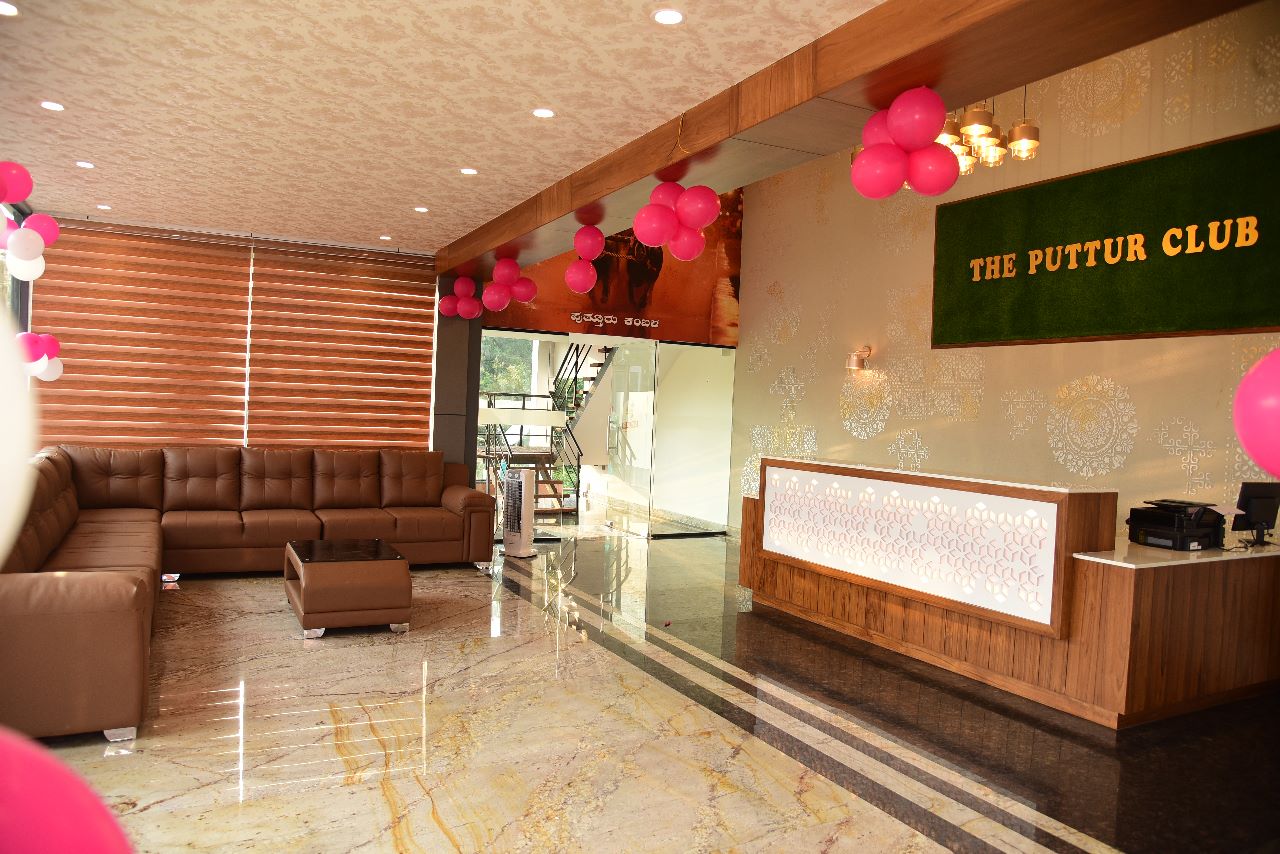 Spread over an area of 2 acres, the best of the profession is here to serve you here at The Puttur Club. This club has caught everyone's attention as it is designed according to National standards. This is an ode to the long-awaited and much-needed members-only club revival in the City.
It has been home to many sports by providing the best of facilities in an indoor badminton court, gymnasium, table tennis, snooker, carrom, chess and tennis court. Being a crowning glory of Puttur, it is a true symbol of integrity where membership is the only bond of fraternity. The membership of this club indicates prestige and exclusivity. Steeped in truly democratic traditions, decency, dignity and decorum are held in high esteem in all matters of interest to the club.
Bar & Restaurant
The restaurant at the Puttur Club is built within for guests to enjoy their meals in comfort, available with luxurious rooms to rest.
Learn More
Swimming Pool
A dip in the pool is always refreshing and entertaining. The luxury swimming pool at The Puttur Club offers the resort-style outdoor swim areas that creates the best memories.
Learn More
Indoor Badminton
We believe that the best badminton is played in the most comfortable and safe environment.
Learn More
Gym
The Puttur club facilitates a gym that combines cardiovascular exercises, powerlifting, and strength, endurance & metabolic conditioning...
Learn More
Vivamus consectetuer hendrerit lacus. Vivamus quis mi. Nulla porta dolor. Duis arcu tortor, suscipit eget, imperdiet nec, imperdiet iaculis, ipsum. Praesent blandit laoreet.
What our customers say about us
I'm not a club member. However, I have been here alot of time with my friends. You get few indoor games. One can enjoy food nearby swimming pool. They have... read more limited menu but food is good overall. Wednesdays are karaoke nights. The only set back is the place is too inside from City limit. Parking space is huge.

Abhimanyu Chevli


April 2, 2022

Nice place for a get together , away from hustle. Has open and family seating. Food is good and decently priced. Road is a bit off-road type and... read more can be managed by a small car too. Needs better directions as google often gets you lost. Has a billiard/ pool table , carrom. I believe has a tennis court/ shuttle . Yet to be confirmed.

Bhavith Shetty


August 2, 2021

Nice ambience and great food and drinks

Nityanand Bhat


January 2, 2022

Excellent place.

Akshay Raj


June 2, 2022

A relaxing place located a bit far from the centre of the city, with good options for passing your time like badminton, pool, swimming etc The restaurant here is good,... read more and you need to ask the server for the specials for them to tell you what is actually nice on a particular day. There are various activities like karaoke night which make it fun and relaxing.

Apoorva NK


March 2, 2022

Have always loved the vibe here ,food and service is very well maintained in the restaurant. Also new swimming pool is a must go. Overall a very good experience, but... read more there is a room for improvement though.

Prajwal Bhat


June 2, 2022

Heaven in Puttur

Goutham Bhat


July 2, 2022

Wonderful place to hangout with friends!

Ashish Shetty


October 2, 2021

A lovely club, set in beautiful location . The food was excellent. Great staff.

Chinthan gowda


July 2, 2022

Really nice and place to enjoy with family

Raja Kumar mstars biomed


November 2, 2021

Nice ambience.. area surrounded by green trees.food is good..

vinod kumar


August 2, 2021
Visit The Puttur Club today and get access to exclusive facilities and services.